Tasty Eel Fish in the Philippines: In Fresh and Packaged Forms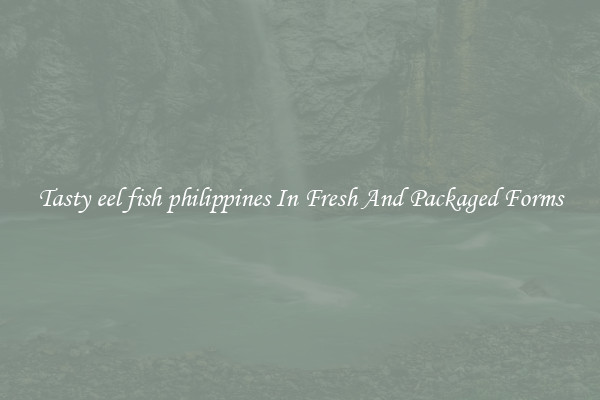 The Philippines is known for its rich and diverse marine resources, providing a wide array of seafood options for the local cuisine. Among these delightful treasures from the sea, the eel fish stands out for its unique taste and versatility in both fresh and packaged forms.
The eel fish, locally known as "igat," is commonly found in rivers, estuaries, and even in rice paddies across the country. This slimy, elongated fish has a smooth and slippery texture, making it a delicacy in many Filipino households.
Fresh eel fish is highly sought after by seafood lovers due to its distinctive flavor. It is often prepared grilled, fried, or made into a delightful sinigang (sour soup) dish. The tender and succulent meat of the eel fish absorbs flavors well, making it a perfect ingredient for various Filipino recipes.
One popular dish that showcases the eel fish's delectable taste is the "kilawing palos." This dish involves marinating strips of fresh eel fish in vinegar, calamansi juice, and spices, resulting in a tangy and refreshing appetizer that perfectly complements the eel fish's natural flavor.
Apart from enjoying fresh eel fish, Filipinos also have the option of indulging in packaged forms of this delectable seafood. The Philippines has a thriving industry of eel fish processing, offering convenient and ready-to-cook eel fish products.
In recent years, vacuum-sealed eel fish fillets have gained popularity among Filipino households. These fillets are carefully cleaned, deboned, and packaged, ensuring convenience and ease of cooking. Whether it's for a quick weekday meal or a special occasion, packaged eel fish fillets offer a delicious and hassle-free option for seafood enthusiasts.
Moreover, eel fish is also transformed into other delightful products, such as eel fish sauce or "patis na igat." This savory sauce adds a unique depth of flavor to various Filipino dishes, especially in stews, soups, and dipping sauces.
The availability of fresh and packaged forms of eel fish in the Philippines allows both seafood lovers and busy individuals to enjoy this delectable delicacy with ease. Whether it's relishing the flavors of a freshly grilled eel fish or conveniently cooking a dish with packaged fillets, the eel fish truly offers a tasty and versatile seafood experience.
In conclusion, the eel fish in the Philippines is an intriguing and delicious seafood option that can be enjoyed in both fresh and packaged forms. Its distinct taste and versatility in various recipes make it a popular choice among Filipino food enthusiasts. So, the next time you want to savor the flavors of the sea, consider indulging in tasty eel fish, available in the Philippines in fresh and packaged options.